Using AI In Therapy & Mental Health Treatment
With the rise of artificial intelligence, many mental health professionals and treatment centers are integrating AI technology into their therapy sessions and diagnostic process. While AI has shown great promise in aiding diagnosis, predicting patient outcomes, and personalizing treatment, there are concerns about whether AI will replace modern mental health care.
This article will explore the use of AI in mental health treatment and behavioral therapy and the potential impact on the future of mental healthcare.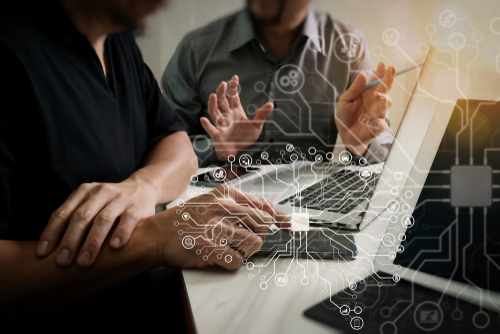 Does Mental Health Treatment Need AI Technology?
The answer to whether mental health treatment needs AI technology is complex and requires two outlooks.
The Potential
The rise of AI technology in mental health has the potential to address the growing demand for accessible and affordable mental health treatment. As an American Psychological Association survey indicates, there has been a significant increase in demand for mental health treatment since the start of the pandemic, highlighting the urgent need for innovative approaches to care.
Chatbots: Chatbots are AI-powered programs that simulate human conversation, and they can be programmed to offer mental health support, including cognitive behavioral therapy (CBT) and mindfulness techniques. Chatbots in mobile therapy apps and AI therapy programs can offer people flexibility, affordability, and anonymity while providing adaptive and personalized treatment plans.
Treatment Plans: AI technology can also be integrated into treatment plans and help mental health professionals identify behavioral patterns and potential areas of concern and make adjustments whenever needed.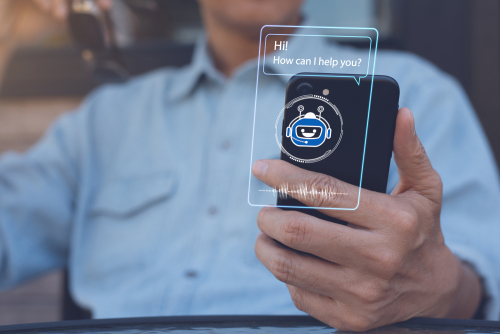 The Concerns
On the other hand, there are concerns about the quality and effectiveness of using AI in mental health care. As these apps and programs may not have undergone the same rigorous testing and regulation as traditional therapy, healthcare providers, clinicians, and individuals should always use them cautiously, ensuring they don't completely rely on them.
AI Technology That Helps Mental Health Treatment
There are three main AI tools improving current mental health treatment.
Machine Learning (ML) and Deep Learning (DL) can help accurately diagnose mental health conditions and predict patient outcomes.
Computer Vision can analyze imaging data and interpret non-verbal cues such as facial expressions, gestures, eye gaze, and posture in clients.
Natural Language Processing (NLP) can analyze speech and language patterns during therapy sessions and provide insight into goals and treatment paths.
How Artificial Intelligence Helps Mental Health Treatment
Ensuring Quality Control
AI's natural language processing (NLP) tools can analyze the language used in therapy sessions, providing therapists with valuable insights into their work and helping trainees improve their skills. This technology supports therapists in providing the highest level of care in an increasingly demanding work field where workloads are often stretched.
Accurate Diagnosis & Treatment
AI can help therapists and doctors identify mental health conditions earlier and make accurate treatment decisions. AI can also match clients with suitable therapists and identify the most effective therapy method for each individual.
A group of researchers from IBM and the University of California analyzed 28 studies related to the application of AI in mental health. They found that the accuracy of AI algorithms in detecting various mental illnesses ranges from 63% to 92%, depending on the chosen AI technique and the quality of training data.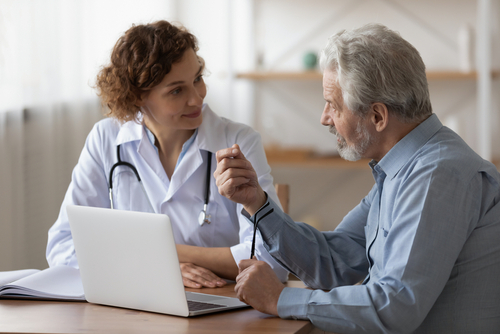 Monitoring & Adjusting Treatment
AI can monitor an individual's mental health progress and track improvements once they are paired with a therapist. It can identify when a change in treatment is necessary or if the patient needs a different therapist.
Natural language processing (NLP) techniques can analyze speech and language patterns during therapy sessions, specifically focusing on "change-talk active" and "change-talk exploration" responses. This technology works similarly to how sentiment-analysis algorithms determine whether movie reviews are positive or negative.
AI can translate a therapy conversation into a "bar code" or "fingerprint" that reveals how much time was spent in constructive therapy versus general chitchat. This helps identify conversation patterns, identify potential areas of concern, and provide insights into the patient's progress.
Promoting Talk Therapy
Artificial intelligence can help validate talk therapy methods like cognitive-behavioral therapy (CBT) and other non-pharmacological approaches over medication by analyzing and providing insights into the effectiveness of various therapies. This can help reduce overprescribing medication for mental health conditions.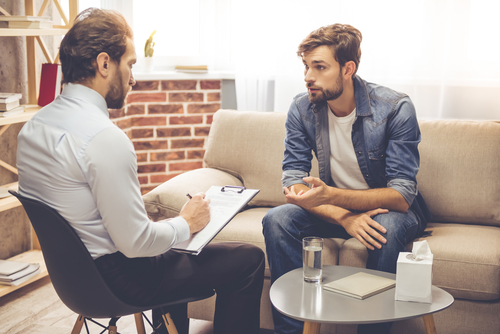 Conducting Self-Assessment & Therapy Sessions
AI-powered chatbots and mental health tracking tools can offer advice, track user responses, and evaluate the severity of mental health issues. These chatbots use keyword triggers and NLP, and some can even interpret non-verbal cues like facial expressions, posture, and gestures to comprehend emotional states. An international team of scholars tested a popular chatbot with a group of students with mood and anxiety disorders. Over two weeks, the study found that individuals showed a significant reduction in mental health symptoms after using the AI system.
Improving Patient Engagement
AI chatbots can simplify access to care by processing phone calls, making appointments, helping find providers, and providing health education. AI technologies are also used in mobile apps and reminder systems to track medication intake and automate outreach messages to identify at-risk patients and drive patient engagement.
Automating Workflow
AI-driven mental health services can reduce administrative burdens by retrieving information and data within a hospital or treatment center and generating on-demand reports on every patient's progress, condition, and possible outcomes. Artificial intelligence can also optimize tasks such as form-filling, sorting EHRs, improving CRMs, and processing clinical papers in healthcare organizations.
Provides Health Equity
AI can help provide health equity by improving access to healthcare for underserved populations. For example, AI-powered chatbots can deliver mental health support and education in remote or low-resource areas where mental health services may not be readily available. AI can also help identify and address health disparities across populations and demographics. Additionally, AI can help reduce bias in healthcare delivery by standardizing diagnoses and treatment recommendations, leading to more equitable healthcare for all.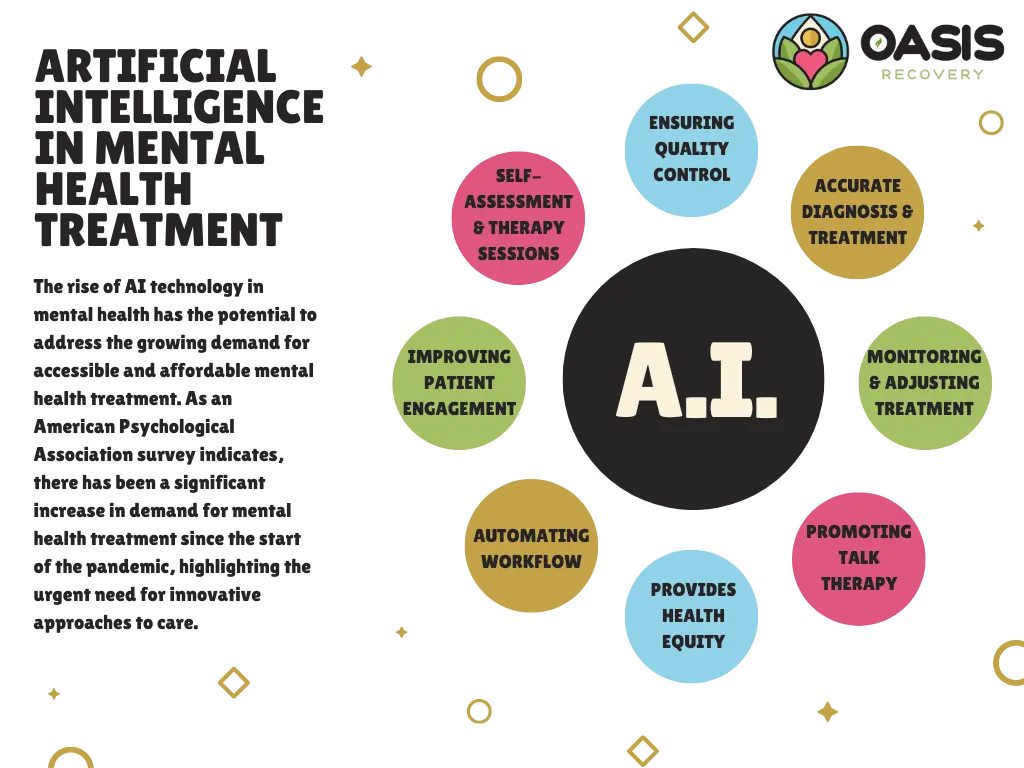 Will AI Replace Human Therapists?
While AI technology and chatbots can potentially transform the mental health industry, they are not intended and are unlikely to replace human psychotherapists anytime soon. The primary goal of AI in mental health is to improve and provide extra resources for treatment centers and therapists, not replace them.
The human element of psychotherapy is critical, and the relationship between the therapist and the patient is often the most significant factor in the success of the treatment. AI chatbots may assist in improving access to mental healthcare, but they cannot replace the empathy, understanding, and personal connection that human therapists provide.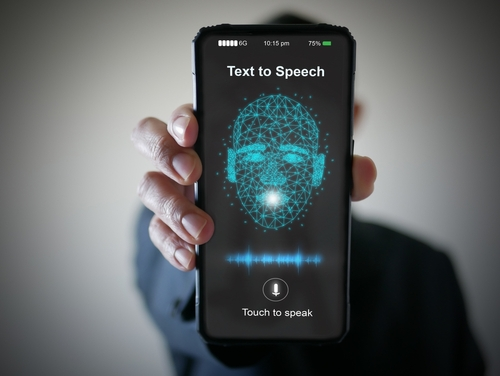 How Can AI Help With Aftercare?
AI can help with mental health aftercare in several ways:
Finding and connecting with support groups: AI algorithms can analyze an individual's behavior and connect them with online support groups that match their preferences and needs.
Providing personalized treatment plans: After completing an inpatient treatment program, individuals may need ongoing support to maintain their mental health. AI-powered tools can provide personalized treatment plans tailored to their specific needs, including therapy, medication, and lifestyle changes.
Monitoring progress: AI-powered tools can monitor an individual's progress after treatment and alert mental health professionals if any changes require attention. This can help ensure that individuals receive the appropriate level of care and support to maintain their mental health.
Contact Oasis Recovery Center
If you or a loved one could benefit from mental health treatment and want to know more about how AI can create personalized treatment plans, contact Oasis Recovery Center. Our team of professionals uses evidence-based practices and individualized treatment plans to help each client on their unique path to recovery.
As technology advances, we recognize and value the use of AI in mental health care and implement it into our individual therapy sessions. Our goal is to provide our patients with the best resources available to ensure their successful recovery and long-term well-being.