Men's Rehab Program In Asheville
What is the Men's Rehab Program
Our Men's Addiction Rehab program in Asheville NC is ideal for males seeking comprehensive, full-time substance use treatment. Complete with integrated, gender-specific campuses, our program is designed to offer a safe, supervised, therapeutic environment, to all of our clients. Men can receive the care and attention they need to achieve a healthy, fulfilling life, free of drugs and alcohol, in a supportive community of other men who are also seeking sobriety.
With a structured curriculum that includes group therapy, one-on-one counseling, and other activities designed to promote self-reflection and healing, our men's program provides the support your loved one needs to overcome addiction and live a healthy, happy life. Our Male Rehab program aims to promote brotherhood and focus on a common goal: lifelong sobriety.
A huge benefit of our Men's Rehab Program is the opportunity for clients to be fully immersed in their healing and recovery process, without the distractions and stressors of regular, daily life. When you are in a comfortable, safe, and supportive environment, you are much more likely to open up and share your thoughts and feelings, which will ultimately help with your healing process.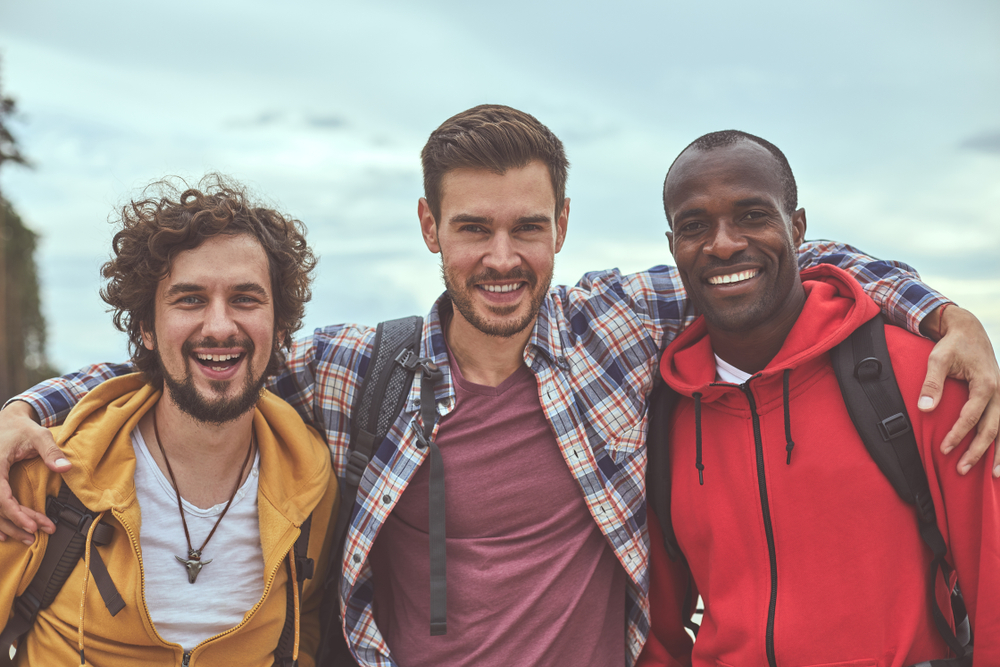 Additionally, being away from daily stressors and distractions allows you to focus on self-care and restorative activities, such as exercise, reading, reflection, and creative pursuits, which also play an important part in your overall healing process. With staff and resources available 24/7, our clients are fully supported every step of the way. Our men's addiction rehab program includes:
Various therapies
Group exercises
Holistic care
Through these methods, you will be able to address the cause of your addiction and work through any troubling thoughts or issues that are causing problems in your life. By providing you with a safe space to share your story and unload any anxiety or stress, group exercises help you connect with others and form meaningful friendships that will last long after the program is completed. Holistic care includes various therapies that are designed to support your physical, emotional, and mental health as you progress through the program.
All clients at Oasis Recovery, whether male or female, are eligible for our various addiction treatment programs. Our treatment plans are based on holistic care and utilize scientifically-proven treatment modalities to cure addiction. These programs include:
Partial Hospitalization Program (PHP) – A PHP is an inpatient treatment program that offers comprehensive behavioral and medical services as well as substance abuse treatment for co-occurring disorders. After detoxification, this immersive treatment method is often the first phase of rehab, and it occurs in our rehab centers.
Intensive Outpatient Program (IOP) – Individuals who finish an inpatient treatment program may struggle to return to work, school, and family life, which is where an IOP can help. IOPs provide a less intensive, part-time treatment program to help those individuals. Clients must live in a sober living environment and fulfill program requirements.
Aftercare – Aftercare is always available for individuals who have completed some form of drug or alcohol rehabilitation treatment. Oasis Recovery Center provides aftercare services to people who want to stay connected to the recovery community. Treatment for drug and alcohol addiction includes medication management, dual diagnosis treatment, and group therapy, among other things.
Day Treatment – In Day Treatment, clients participate in the same holistic groups and therapies as those in our PHP program without a sober living environment. This gives clients the opportunity to have a full-time treatment plan, create a sober community, and learn new recovery skills while staying on top of their responsibilities at home or work.
Clients can rest assured that they are receiving the best care possible as all of our programs are evidence-based and are tailored to suit the unique needs of each client. From the moment you step through our doors, you will be surrounded by a team of dedicated specialists who are here to help you every step of the way. Our treatment specialists work with all clients to design a custom-built treatment program that addresses all of their individual needs. This customization ensures that every client receives the effective, quality care they deserve.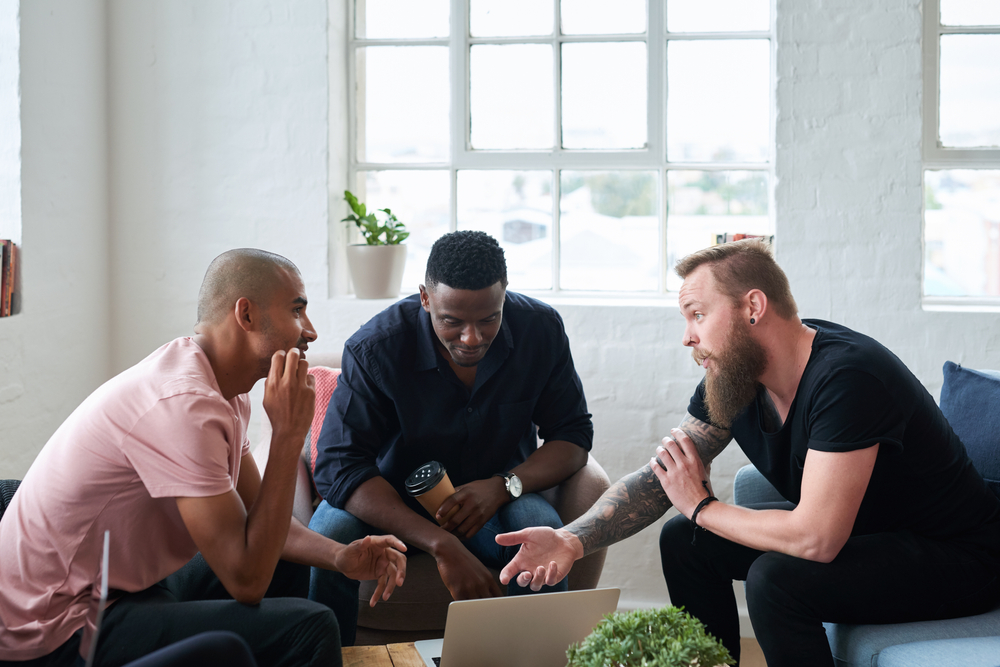 Why is Rehab for Men Important?
According to the National Institute on Drug Abuse, Men are more likely than women to use almost all types of illicit drugs, and illicit drug use is more likely to result in emergency department visits or overdose deaths for men than for women. However, women are more likely to seek substance abuse treatment than men.
Young men and women experience and respond to substance use, trauma, and mental health issues differently, so they must be treated differently. Although we must search for a solution to this problem, we cannot ignore the fact that young men recovering from substance use disorder and/or co-occurring disorders are struggling with anger, low self-esteem, failure to launch, stress management, and other issues. In addition, young males are encountering new difficulties every day, and they are more prone to rely on drugs and alcohol to cope. As a result, young males must attend substance use treatment centers that are able to address their needs.
Our addiction treatment program in North Carolina is constructed to satisfy the wants of our young male patients. During and after your stay at Oasis Recovery, our drug addiction treatment program helps you or a loved one build self-esteem and become more self-sufficient. Clients will also develop healthy skills such as:
Identify both the emotional and physical triggers that lead to relapse
Manage their anger
Embrace a positive perspective
Manage co-occurring disorders like anxiety or depression
Cope with the repercussions of trauma.
Why Are Men More Likely to Develop Addiction?
A person's dependency on drugs or alcohol is the result of a complex mix of genetic risk factors and environmental triggers. Despite this fact, gender-based norms for 'masculine' behavior might increase a man's vulnerability to substance abuse. The following are potential reasons why men may be more vulnerable to developing a substance use disorder.
1.Men are less likely to see addiction as a problem
When it comes to substance use, men tend to see it as a sign of masculine behavior or a rite of passage, rather than something that is harmful or inappropriate. Women, on the other hand, tend to view substance use as something that is incompatible with caregiving and family responsibilities. This can also make them vulnerable to sexual assault or make them look bad in the eyes of others.
2. Men are more vulnerable to peer pressure
"Toxic masculinity" is a term used to describe the negative overall effect of socially constructed ideas about manhood on a man's wellbeing. It's the belief that feminine behaviors are inherently weak and undesirable that leads men to consume addictive substances more often than they would on their own. This is due to peer pressure. It may lead to an addiction in anyone with genetic vulnerability or other risk factors for substance abuse as a result of peer pressure. Women who have substance use issues, on the other hand, usually report that substance abuse began as a means to self-medicate negative mental health symptoms. However, in some cases, intimate partners contribute to substance abuse in women.
3. Many men externalize emotions
When processed in a healthy manner, fear, anger, disappointment, and frustration are all normal parts of human life. Many individuals, however, find it challenging to process these feelings in a healthy manner. Studies have found that men externalize negative emotions more frequently than women do. Substance abuse disorders are associated with impulsive and aggressive actions as a result. These studies found that this behavior is linked to higher levels of substance abuse. Reckless driving, physical altercations, and other self-destructive behaviors may ensue as a result of externalizing negative emotions.
4. Men have weaker social ties
A person's mental health can be heavily influenced by the connections they have with other people. When you tell your close friends about your concerns, they offer a balanced perspective on the problems that are troubling you. If you're struggling, they will come to your aid and try to help. They protect against loneliness and isolation. They offer you someone to speak to if you have a bad day.
5. Men are less likely to ask for help
When substance abuse problems are first noticed, they may be difficult to detect. Substance abuse is a progressive illness, so it is often hard to identify at first. Men who are conditioned to solve problems without asking for help are more likely to remain in denial about their substance use until a crisis forces them to seek treatment. Since substance use disorders are particularly common in the veteran population, it is especially important to ask for help with personal issues. As a result, women are frequently in a better position to seek assistance when problems arise.
Benefits of Gender-Specific Rehab
Many men have a hard time conveying strong emotions, thoughts, and memories, either in a personal or a group setting. At the beginning of therapy, clients may feel as if they must live up to the expectations of the other people in the room.
Tailoring an addiction treatment program to either gender is highly valuable, as males and females have distinct causes for getting addicted and respond differently to treatment. While women succeed in programs designed for them, males frequently have to battle with other issues such as anger management, father-son relations, and emotional detachment, resulting in their entering treatment later. This may affect the kind of treatment required for recovery. With gender-specific rehab programs, clients benefit from:
Comfortability – Having other men in the same program can make men more at ease and comfortable. This can help them build trust and camaraderie with their fellow participants. It can also make it easier for men to discuss personal issues such as sex, relationships, and their fears.
Fewer distractions – It is beneficial to have a gender-specific rehab, because it allows for more focus and concentration and reduces the likelihood of romantic diversions.
Acceptance – In society, men are expected to keep their feelings to themselves. By removing this expectation in an addiction treatment program geared towards men, recovery and healing can be the focus.
Communication – Patients who participate in gender-specific treatment programs are able to bond and communicate with each other more easily than those in mixed-gender programs. Because patients are only communicating with other patients of the same gender, addiction can be discussed more effectively.
Men's Group Therapy
It can be difficult for some men to be honest, open, and candid in a mixed-gender group, especially if they struggle with other issues that are different from women. Due to social conventions, it is often hard for men to be honest, open, and vulnerable in group therapy. There is less fear of judgement or discomfort in a men-only setting. Many men find it easier to be open and honest when surrounded by men with similar life experiences.
Group therapy often includes physical activity, group activities, and other trust-building experiences as well as traditional group sharing and support. People may be reluctant to admit their inability to control certain aspects of their lives or else they may be thought of as victims of their conditions. When people are conditioned to behave in certain ways according to gender, it can make it difficult for them to be honest, open, and candid.
Men who take part in their treatment in a gender-specific rehab setting may feel less inhibited, allowing them to participate in their treatment without fear of judgment or shame. Here, the staff are sensitive to the fact that gender often plays a major role in addiction. Other men in rehab support the decision-making process, promoting health and recovery.
Oasis Recovery Can Help
Oasis Recovery treatment specialists will work with you to develop a treatment plan that meets your individual needs if you are a male battling addiction. You will be welcomed by a community of supportive, likeminded men in our men's addiction treatment program as a member of our men's rehab program. Addiction recovery is a shared goal among men. You do not have to fight it alone. We, as a family, will provide the support, comfort, and empowerment you need at every stage of treatment and beyond. Contact a substance abuse professional today.
Call Today To Learn More
If you are a male who is considering addiction treatment in North Carolina, call Oasis Recovery today. Our treatment specialists work will all individuals to create a treatment plan that suits their individual needs. As a member of our men's rehab program, you will be welcomed with open arms by a community of supportive, likeminded men who share the common goal of recovery from addiction.
You do not have to struggle with addiction alone. Help is available. At Oasis Recovery, we are family and we will do everything in our power to ensure that you are comfortable, supported, and empowered at all stages of treatment and beyond. Call an addiction specialist to get started today.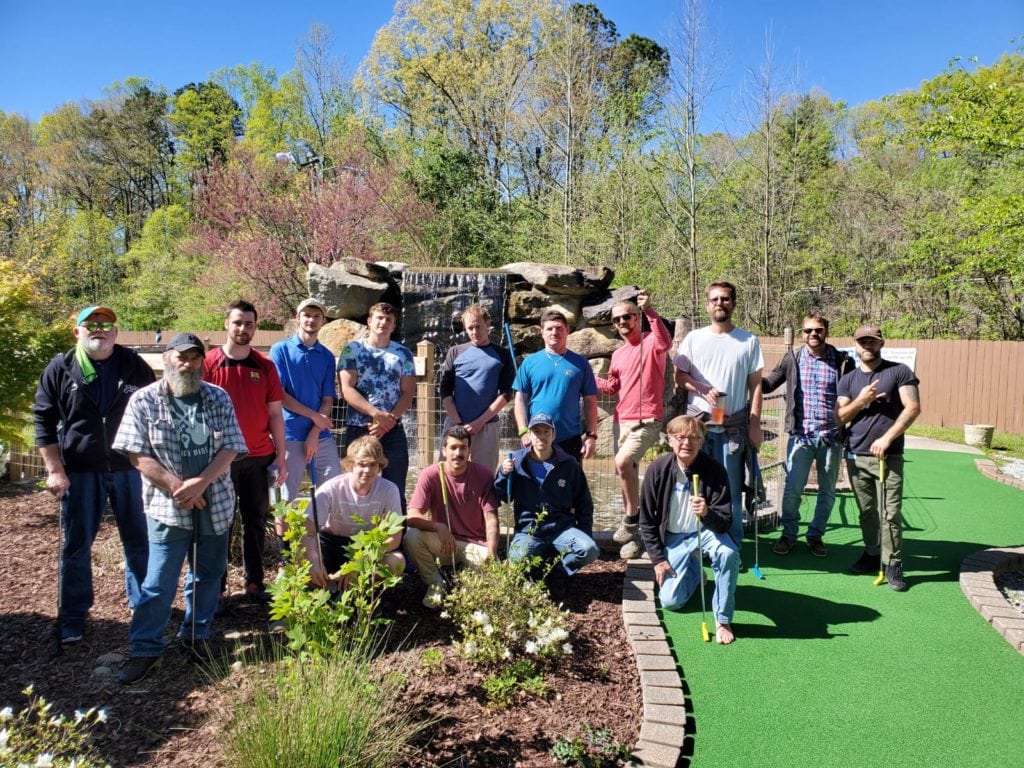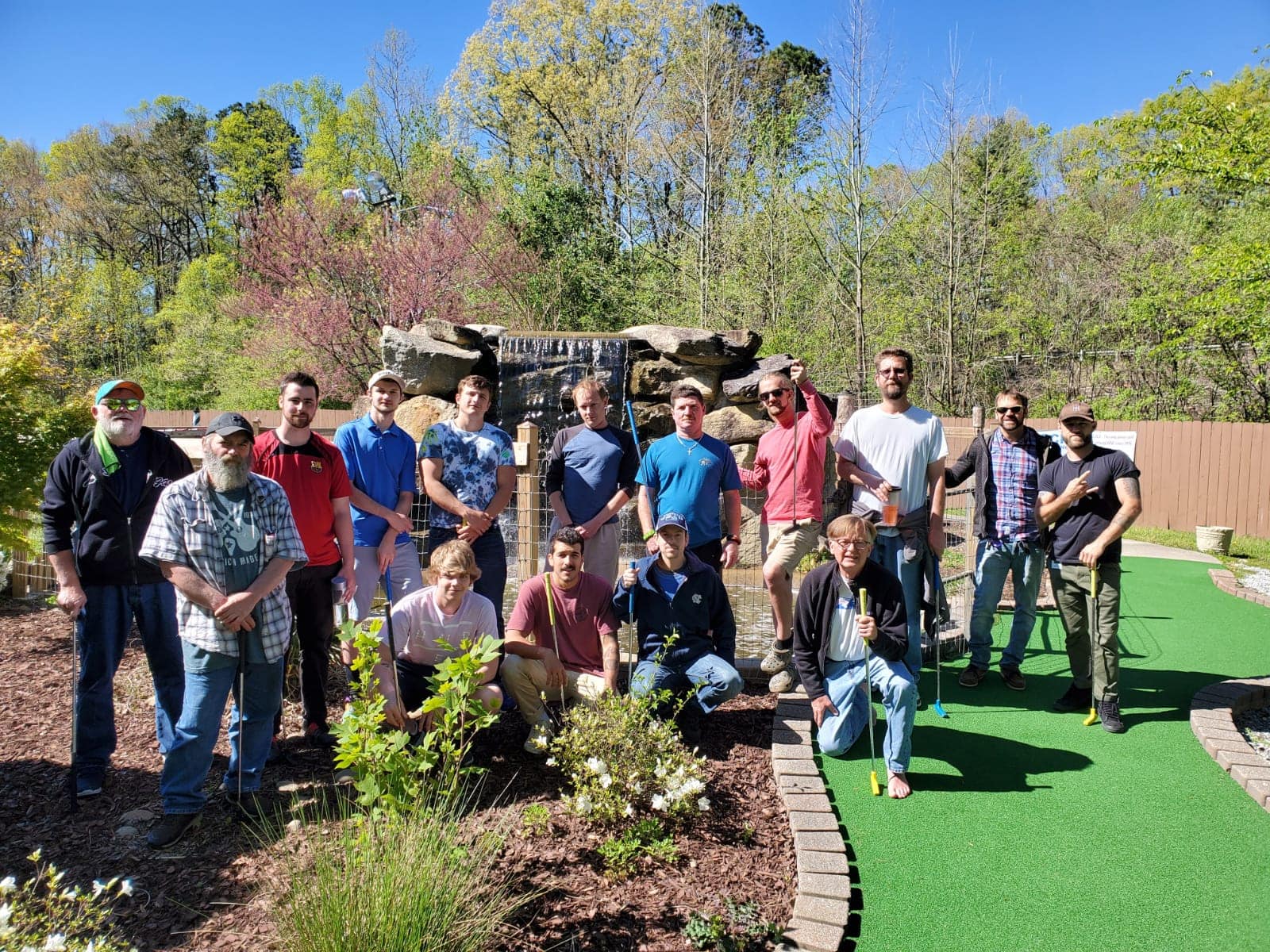 What Would It Feel Like To Be Free?
LET US HELP YOU FIND OUT