Psychotherapy
In Asheville
What is Psychotherapy?
Medically Reviewed by Jodi Mabry
Psychotherapy is a way to help individuals improve a broad variety of mental illnesses and emotional difficulties that are commonly associated with addiction. By eliminating troubling symptoms many addicts develop while in active addiction, psychotherapy can have a profound impact on a person's well-being.
People who receive psychotherapy do not always have a mental illness; some seek help for everyday problems and conflicts. It is likely that no matter what issue you are facing, there is a form of psychotherapy that can help you cope, even without a specific mental health disorder diagnosis.
Psychotherapy can assist with addressing a variety of issues, including simply coping with daily life; addiction; trauma and its repercussions; disease; bereavement, like the death of a loved one; and specific mental illnesses, such as depression, anxiety, eating disorders, and post-traumatic stress disorder. Psychotherapy is often combined with prescribed medicines or other therapies, such as Cognitive Behavioral Therapy (CBT). Depending on the specific problem or issue, some types of psychotherapy might be more effective.
Types of Psychotherapy
Cognitive Behavioral Therapy (CBT) is a popular form of psychotherapy that works by helping patients reframe their negative thought processes and behavioral patterns. Rather than viewing patients struggling with depression and anxiety or addiction as people struggling with chronic mood disorders, CBT practitioners view these struggles as cognitive disorders in which patients' interpretation and thoughts about a situation can make their symptoms worse. Cognitive Behavioral Therapy aims to change patients' core beliefs, habitual thoughts, and negative thinking patterns to create positive outcomes.
Psychodynamic Therapy is the second most frequently employed psychotherapy treatment. This method postulates that mental illness and distress are caused by unresolved, unconscious conflicts from earlier days in our childhoods. With this method, your physician will discuss your past in order to assist you in managing and understanding your emotions by discussing them with you.
Acceptance and Commitment Therapy (ACT) teaches patients to acknowledge and accept their deepest emotions as natural responses to certain situations that should not prevent them from pursuing their objectives in life. Instead of avoiding, denying, and struggling with their emotions, clients accept that these feelings are an appropriate response to certain scenarios. Whether life is difficult for a patient when they enter Acceptance and Commitment Therapy or not, during ACT, clients commit to altering their behavior to build healthy coping strategies for when life is tough. This can be extremely beneficial to those in recovery for addiction.
Humanistic/ Experiential Therapy emphasizes a person's unique characteristics rather than the set of behaviors that define a particular mental disorder, emphasizing the 'whole person' and their strengths, as well as their ability to heal. Gestalt therapy and client-centered therapy are two well-known methods that are utilized in this treatment.
Gestalt Therapy- will assist you in identifying, exploring, and processing your emotions and experiences by using imaginative and experiential methods such as re-enactments, role-playing, exaggerated movement, and other exercises to help the patient become aware of and understand those emotions as they occur.
Client (or Person) Centered Therapy advocates for people to determine for themselves the psychological areas they want to explore and how to go about it. Therapists using this approach create a supportive environment for clients as they explore their identity, feelings, experiences, or emotions, rather than directing them toward a specific outcome or direction.
Interpersonal Therapy considers mental illness as an inherited or biological predisposition to experience certain symptoms. Chronic stress, such as interpersonal conflict, may cause or 'trigger' these symptoms as a result of stressful life events. Regardless of how your symptoms arise, Interpersonal Therapy stresses they are never the patient's fault. This form of therapy is either one-on-one with the patient and therapist or in a group therapy setting. Interpersonal Therapy is designed to help patients struggling with interpersonal relationships and conflict so that they can handle issues that arise with new and improved interpersonal skills that relieve stress.
Dialectical Behavior Therapy (DBT) is a form of Cognitive Behavioral Therapy (CBT). Its primary purpose is to provide patients with the knowledge and abilities required to regulate their emotions, manage stress in a healthy manner, and improve their relationships. DBT helps individuals develop emotional intelligence and self-awareness.
Benefits of Psychotherapy in Addiction
When suffering from drug or alcohol addiction, counseling options such as psychotherapy can be extremely beneficial. Drug abuse can often harm or even destroy relationships and a drug addiction counselor can offer the advice necessary to repair any broken relationships. At Oasis Recovery, our evidence-based treatment program paired with our highly trained & experienced therapists and counselors will allow our clients to begin healing. Benefits of psychotherapy can include:
Improved relationships
Improved symptoms of depression and anxiety
Improved likelihood of recovery from addiction
Regained Confidence
Help With Panic Disorder
Increased Happiness
Job retention
Self awareness
Problem-solving skills
Maintained sobriety
Increased motivation
Life-long interpersonal skills
Finding the Right Psychotherapist
Psychiatrists, psychologists, licensed social workers, licensed professional counselors, licensed marriage and family therapists, psychiatric nurses, and other professionals who specialize in psychotherapy may provide this form of therapy. As psychiatrists are also medical doctors, they may prescribe medication to a patient as well.
An individual should find a psychiatrist or other therapist with whom they feel they can work effectively with. If you are in need of a physician referral source, primary care physicians, local psychiatric societies, medical universities, community health centers, workplace Employee Assistance Programs (EAPs), and online resources can help refer you to the right place. When considering treatment facility options, it's important to choose a facility in an area where you feel comfortable completing treatment. Choose a treatment facility that will stand by you every step of the way.
Is Psychotherapy Effective?
According to research, most people who undergo psychotherapy experience symptom alleviation and improved performance in their lives. Psychotherapy has been shown to enhance emotions and behavior, as well as neurological and bodily improvements.
Researchers have found that brain imaging techniques can shed light on the changes that happen in the brain after undergoing psychotherapy. Brain changes in individuals with mental illness (including substance use disorder, post-traumatic stress disorder, panic disorder, and depression, among others) have been documented as a result of psychotherapy in many studies. In most cases, the brain changes resulting from psychotherapy were comparable to those resulting from medication.
A collaborative approach to psychotherapy can help you get the most out of your treatment, so it's essential to be open and honest with your treatment provider, and follow your treatment plan. Make sure to follow through with any assignments between sessions, such as journaling or practicing what you learn, or any other project your therapist may assign for you.
Psychotherapy in Asheville, NC
Oasis Recovery Center, a treatment facility in the heart of the Blue Ridge Mountains founded by members of the recovery community, recognizes a need for psychotherapy in the recovery process. Our highly trained and experienced therapists and counselors specialize in clinical psychotherapy and are proud to offer this treatment form as an option for clients.
There have been countless studies that have shown psychotherapy to be both safe and extremely effective in treating people with substance use disorders. Psychotherapy has proven to be effective in treating numerous Oasis Recovery clients. The safety and comfort of clients at Oasis is extremely important and our number one priority is finding an effective treatment method that will work for you specifically. If you are struggling with addiction, you are not alone. If you feel like any of the above forms of psychotherapy could be beneficial to you in recovery, do not hesitate to contact us today!
We believe recovery is always possible. Our experts will work with you to design a treatment plan that fits your needs. Common treatment programs include:
Intensive Outpatient Programs (IOP)– When people sign up for outpatient treatment, they don't have to live at their center all day. However, they are required to come to their rehab facility to receive counseling and therapy throughout the day in addition to group activities. Because of this, people can continue working, going to school, and caring for their families while getting the assistance they need to overcome substance dependence and addiction.
Full-time Addiction Treatment on campus (Inpatient)– Patients with substance abuse and addiction problems receive comprehensive care during inpatient treatment. During treatment, patients live in the rehab facility and are monitored round the clock by treatment specialists. Inpatient rehab is frequently chosen by individuals with more serious conditions for a successful recovery. Patients attend therapy and counseling sessions, as well as spend time with other recovering individuals. This treatment method is advantageous because it allows people to escape the pressures and temptations of their home environments. It also provides medical and emotional support 24/7.
Aftercare Services– Aftercare services are available to individuals who have completed treatment for drug and alcohol problems. Whether you have completed an inpatient stay, an intensive outpatient program (IOP), or one of our substance abuse treatment specialization tracks, aftercare may be beneficial. Oasis Recovery Center's aftercare program allows individuals who desire to continue working with a recovery community post-treatment to continue to receive the services they received throughout treatment.
Oasis Is Here For You
At Oasis Recovery Center in Asheville, NC, we use evidence-based psychotherapy treatment practices that ensure that each individual who walks through our doors receives the care, support, and comfort needed to achieve the sobriety they deserve as well as a life free from substance abuse.
If you or a loved one could benefit from psychotherapy addiction treatment, the experts at Oasis Recovery are here for you. Between our various treatment programs, psychotherapies and other forms of therapy, and supportive community, we provide the quality care that you deserve. To learn more about all we have to offer, download our free E book today. You no longer have to struggle with addiction alone.
Oasis Is Here For You
If you or a loved one could benefit from addiction treatment, the experts at Oasis Recovery are here for you. Between our various treatment programs, therapies, and supportive community, we provide the quality care that you deserve. To learn more about all we have to offer, download our free eBook today. You no longer have to struggle with addiction alone.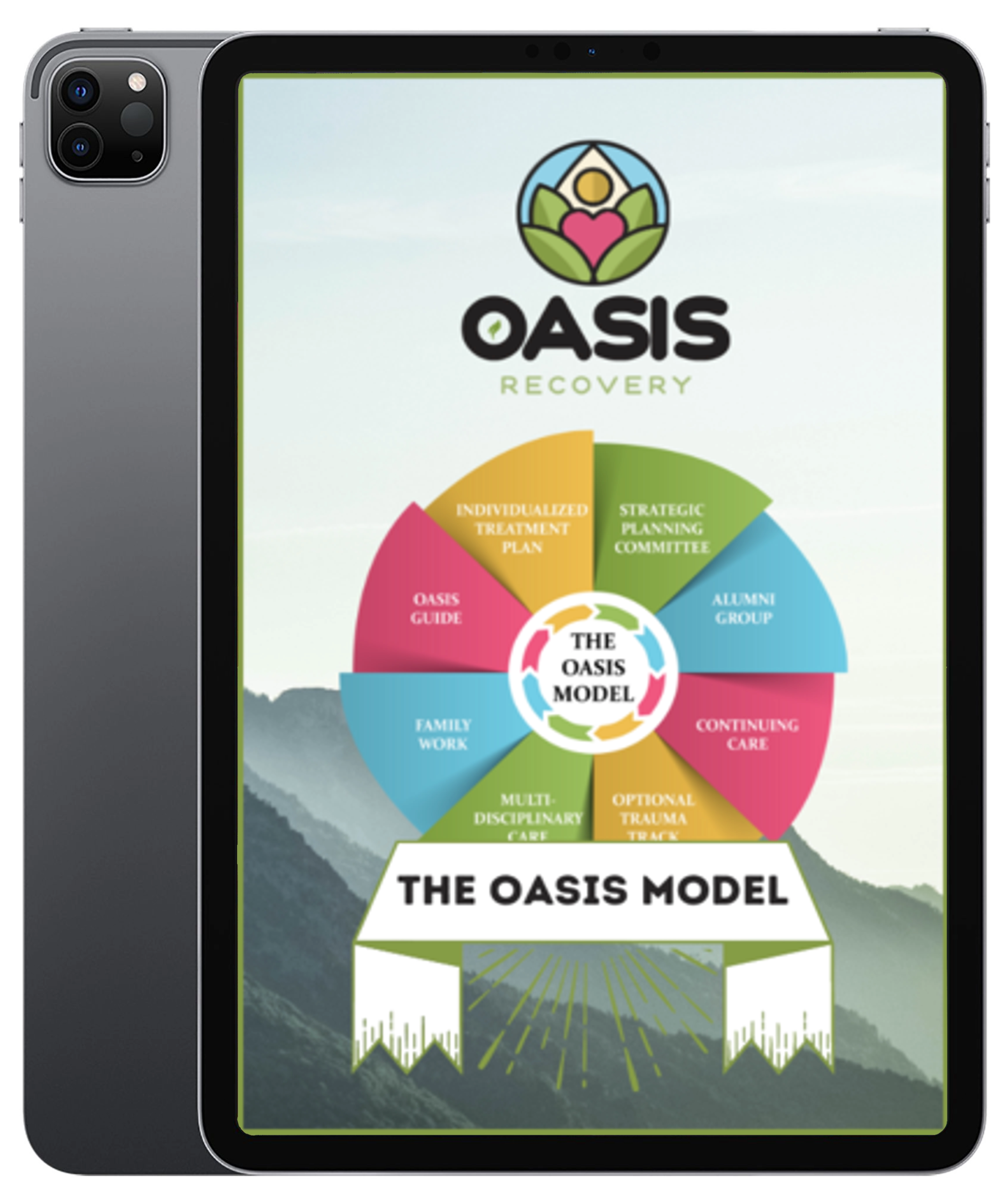 What Would It Feel Like To Be Free?
LET US HELP YOU FIND OUT