12 Step Program
In Asheville
Oasis Recovery is a mindfulness-based recovery center, and is not based on the 12 steps of AA. However, attendance at 12-step meetings is incorporated into our programs. We strive to introduce our clients to the many recovery resources and support groups available, without pushing any one path to recovery on anyone. We recognize and respect the fact that various approaches resonate differently with each individual.
What is a 12-Step Program?
12-step modalities are based on the traditional practice founded by Alcoholics Anonymous. The 12-step blueprint works as a guideline towards achieving successful recovery. By successfully completing the steps, the individual will be prepared to avoid triggers, find power in self, and reclaim lost self-esteem.
The 12-step program was developed and used by Alcoholics Anonymous (AA) to help individuals overcome substance dependencies. In this model, people are assisted in making and maintaining abstinence from substances of abuse by collaborating and supporting one another. The healing of substance dependency cannot take place unless people surrender to a higher power. It doesn't matter what higher power you choose; the only requirement is that it be a higher power that individuals with addiction surrender to.
A higher power doesn't have to be a Christian God; it can be anything from a group of 12-step meeting attendees to the universe or a spiritual method that is appropriate for your beliefs. While many addiction treatment centers provide other alternatives to the 12-step method for those who prefer a non-religious treatment, some individuals find it to be too religious.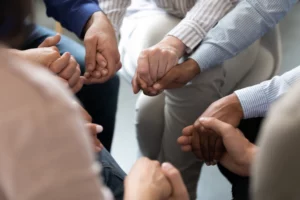 The 12 Steps of AA:
1. We admitted we were powerless over addiction
2. Came to believe that a Power greater than ourselves will help
3. Made a decision to turn our will and our lives over to the care of God.
4. Made a moral inventory of ourselves.
5. Admitted to God, to ourselves, and to another human being the exact nature of our mistakes and wrongdoings.
6. We're ready to have God remove these character defects.
7. Humbly asked Him to erase our shortcomings.
8. Made a list of all persons we had wronged, and became willing to make amends to them.
9. Made direct amends to such people wherever possible.
10. Continued to take personal inventory and promptly admit to being wrong.
11. Sought through prayer and meditation to improve our contact with God
12. Having had a spiritual awakening as the result of these Steps, we carry this message to all addicts.
Benefits of a 12-Step Program
They're Accessible – One of the greatest things about 12-step meetings is that they're all around us. Because of this, participating in one is no longer a significant obstacle. If you live in a city, you may be able to find a meeting close by. In addition, it can be done in a snap.
They Provide a Sense of Community – The greatest advantage of attending 12-step meetings is that they instantly create a ready-made sober community. The greatest problem people face when they start recovery is establishing a strong network. Most of their old companions still consume drugs and alcohol, making it hard to meet new people. When you go to 12-step meetings, you will have the ability to socialize with others who share your sobriety goals and may assist you when you are tempted or stressed.
They Provide Structure – Structured time, such as regularly scheduled activities, provides some structure to the day and keeps you grounded. Avoiding boredom and isolation, however, can result in cravings. Seeing others who support your recovery at a set time and place keeps you grounded.
Help Others in Need – You can also benefit from 12-step meetings by volunteering. Whether it's a small gesture or a large one, volunteering can boost your sense of gratitude and satisfaction, as well as your self-esteem. You can forget your own issues and focus on helping others instead.
Help you Stay Committed to Recovery – Keeping your commitment to sobriety by attending a regular meeting is a good idea. As with church, a regular meeting plays a significant role in reminding you of your values and beliefs and of seeing your fellow members. It also serves as a reminder of the considerable effort you put into staying sober.
What is the Success Rate of 12 Step-Based Programs?
Because Alcoholics Anonymous' outcomes are not precise, there is no way to calculate the percentage of success in 12-step based programs. Most study results are published by AA with some members being reluctant to participate since doing so would jeopardize the anonymity of the group. Many people would prefer that their AA involvement remain anonymous, in keeping with the organization's founding principles. Additionally, individuals may be unwilling to disclose their alcoholism. The National Institute on Alcohol Abuse and Alcoholism found that, among people with alcohol problems who received both standard treatment and AA, the proportion of individuals who remained abstinent increased by one year compared to those who received standard treatment.
Those seeking recovery support groups after completing an addiction treatment program may benefit greatly from a 12-step program. However, people should research their options and complete a formal addiction treatment program beforehand in order to get the most out of it. Oasis Recovery's program blends AA principles with the client's unique requirements.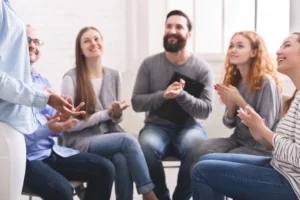 How Oasis Recovery Incorporates the 12 Steps of AA
The AA 12-Step program is a well-known program for treating addiction. It is worldwide in use due to its ability to keep individuals drug-free. The 12-Step program is used in drug rehabilitation facilities across the globe to assist those who continue working it after leaving treatment. Each step demonstrates a range of ideas and principles that assist individuals overcome addiction and live a lifetime of sobriety.
The program allows people to express their feelings and experiences related to addiction in a confidential, supportive, and safe environment. Oasis Recovery uses a variety of therapeutic approaches in a modern drug and alcohol rehab program in conjunction with regular AA attendance. We employ one of our substance abuse treatment methods along with regular AA attendance to maximize the probability of success in recovery.
The Twelve Step Program is a component of our multi-disciplinary approach to treatment for drug and alcohol abuse, which is why we provide it. We believe in excellent care for anyone who refuses to let addiction control their life, so we provide a variety of options to suit your individual needs.
Our approach to addiction recovery is holistic, meaning it encompasses the whole person—mind, body, and spirit. Our therapeutic modalities and offerings range from psychotherapy to qi gong to wilderness therapy to 12-step meetings to (optional) acupuncture. We encourage our clients to experience these with an open mind. We've heard from many clients that when they came in, they had a preconceived notion about, for example, yoga or chiropractic care, and after trying it, were surprised to find it worked for them or they really enjoyed it!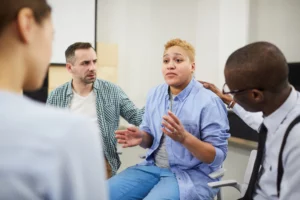 Oasis is Here For You
If you have questions about our 12-step recovery program, reach out today! Our experienced treatment specialists are available to answer any questions you have and get you started on the road to recovery. You do not have to struggle with addiction alone. Oasis Recovery is here for you.
Oasis Recovery was founded on the realization that addiction and recovery are two separate things, and our aim is to provide a place where individuals can heal from addiction by receiving compassionate, imaginative, open-minded, and heart-centered care. We know that recovery is always possible and we work with you to create a treatment plan that suits your needs. Our treatment options include:
Intensive Outpatient Program
Partial Hospitalization Program
Aftercare Planning
Detox Referals
Mental Health Referrals
Contact us today for more information about how our treatment programs and services can help you get your life back on track. You do not have to struggle on your own. We are here to help.
Oasis Is Here For You
If you or a loved one could benefit from addiction treatment, the experts at Oasis Recovery are here for you. Between our various treatment programs, therapies, and supportive community, we provide the quality care that you deserve. To learn more about all we have to offer, download our free eBook today. You no longer have to struggle with addiction alone.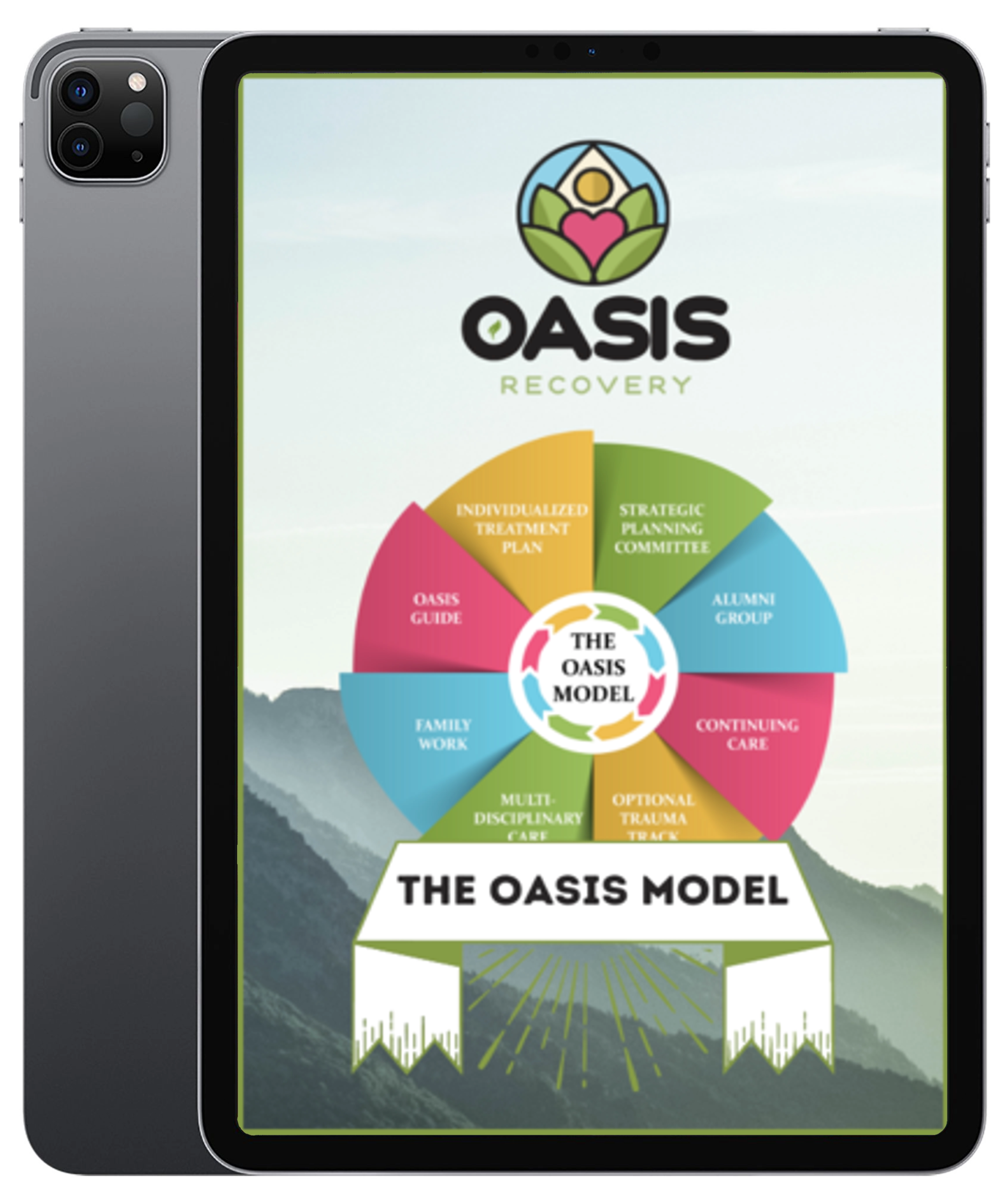 What Would It Feel Like To Be Free?
LET US HELP YOU FIND OUT