Equine Therapy in Asheville
What is Equine Therapy?
Equine therapy, also known as Equine-assisted therapy (EAT), is a therapeutic modality that incorporates horses into the therapeutic process. Equine therapy is facilitated by trained professionals to ensure safety. Interaction with the horses is flexible and can be adjusted for the comfort level of the client. Exercises with the horses may include haltering, leading, and grooming the horses.
This kind of therapy helps clients develop skills such as emotional regulation, self-confidence, and responsibility, among others. Because mature horses can weigh up to 2,000 pounds, it may feel a bit intimidating to have such an enormous creature participating in your therapy sessions. However, this approach is becoming more popular as a result of its experiential nature and some emerging evidence of its effectiveness.
How Effective is Equine Therapy?
Animals have proven their ability to ease the symptoms of patients suffering from chronic pain, both through lowering stress and increasing relaxation. Studies show that cats, dogs, and even dolphins have all been useful in lowering pain, boosting mood, and reducing stress. In drug rehabilitation, clients participate in equine therapy in order to help them shift their points of focus. It allows them to replace their previous habits that led to and sustained their addiction with healthier habits.
In addition to equine therapy, clients are encouraged to participate in therapy sessions as part of an effective treatment plan. Clients are also encouraged to consider their behavior, future, and life as a whole as a result of counseling and other therapies. The goal is to help all clients develop as individuals, and equine therapy is extremely effective in working towards this goal.
Types of Equine Therapy In Asheville
An individual's physical or emotional recovery may be enhanced through equine-assisted therapy. Equine therapy is a connection between humans and horses that offers experiential therapy. These are just a few of the many forms of equine-related therapy and care offered:
Hippotherapy – physical, occupational, and speech therapist co-facilitates this therapy, along with a certified equine specialist. Patients with neuromuscular issues can benefit from improved balance, coordination, and body control.
Therapeutic Riding – Equine-Assisted Activities, rather than Equine Therapy, have been shown to assist individuals in recovering from trauma as well as building self-esteem and confidence.
Equine-Assisted Psychotherapy – EAP focuses on individuals with mental or substance misuse issues, cognitive issues, and other problems. While still a sort of talk therapy, EAP allows patients to use multiple senses to identify and process emotional issues. Outdoor environments and animals provide a unique, positive experience in addition to the experience.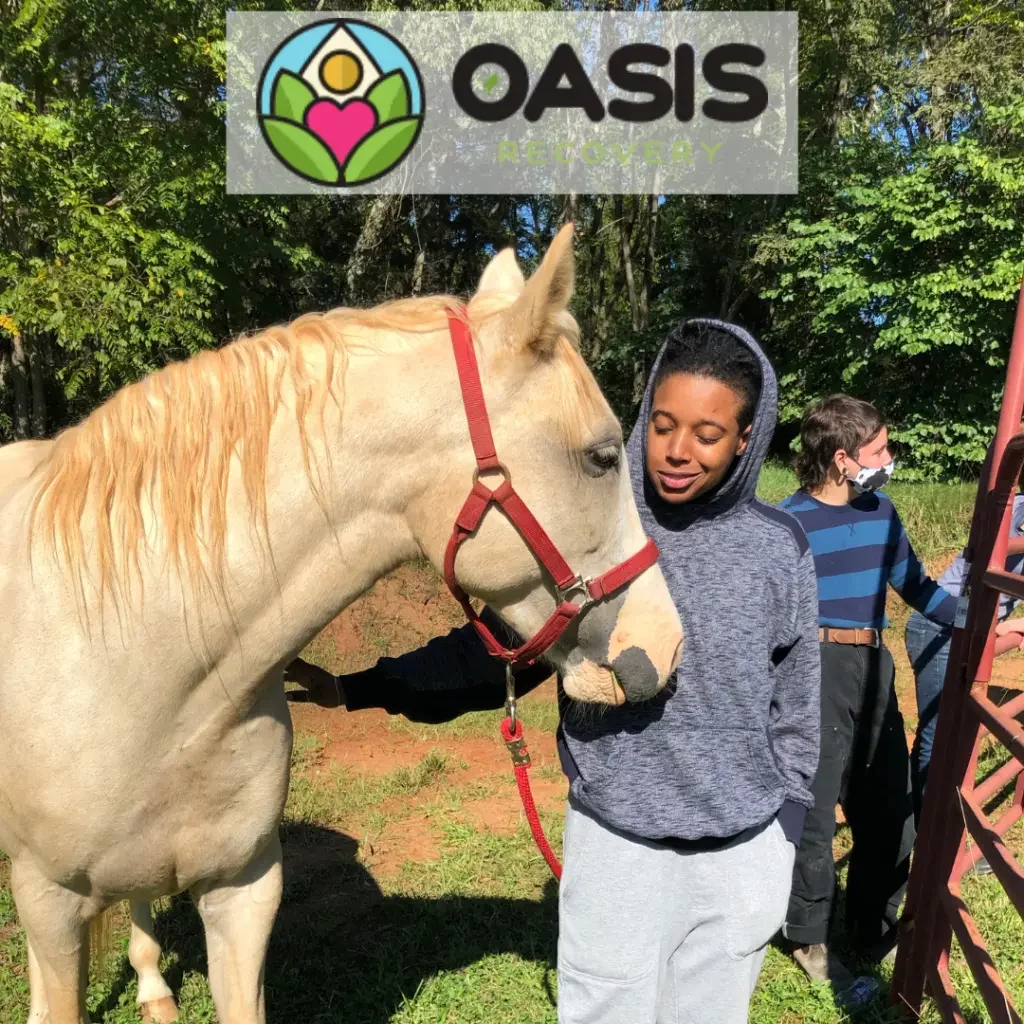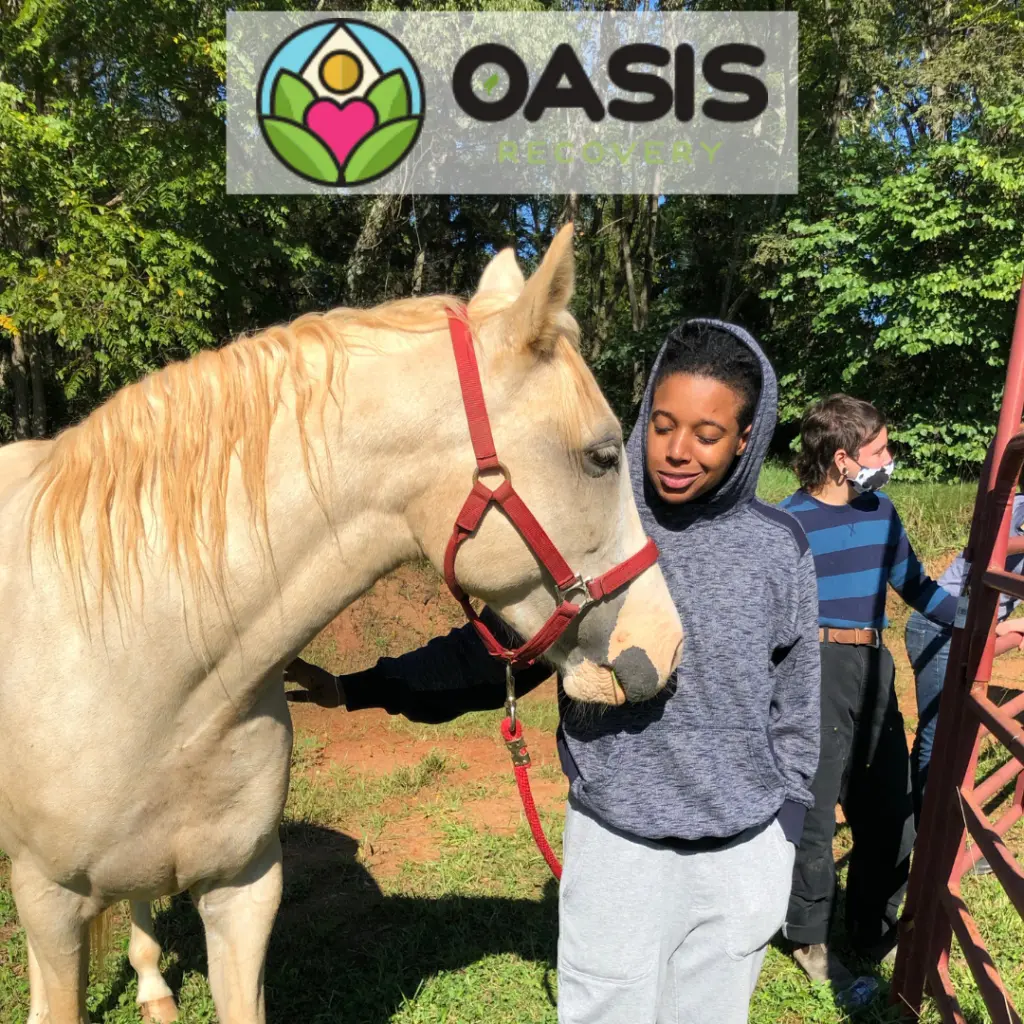 Benefits of Equine Therapy
A recent study states that equine therapy was a favored form of therapy among individuals within an addiction treatment program. Participation in equine therapy promotes a sense of calm, improves mood, and re-centers clients' focus. This form of therapy is very beneficial when applied in combination with more traditional modalities of treatment.
Equine Therapy actively improves:
Emotional awareness
Empathy
Impulse control
Problem-solving skills
Assertiveness
Confidence
Developing and maintaining relationships
Social skills
Trust in others
Trust in self
When undergoing addiction treatment, clients may encounter difficulties establishing trust, being vulnerable, and communicating expressively. Equine therapy practitioners can assist clients establish trust by working with horses to gain a sense of safety and develop a connection. It can encourage clients to be vulnerable as they take on new tasks and interact with their horses.
Equine Therapy for Mental Health In Asheville
It may seem odd to locate intensive mental health care in a horse barn, but many individuals feel that equine-assisted therapy is beneficial. Equine-assisted therapy is ordinarily conducted as a team effort involving a mental health professional and a horse specialist. Individuals who receive equine-assisted therapy are typically seeking treatment for emotional or behavioral issues.
Clients participate in equine-assisted therapy by working with specially trained horses while learning how to take care of them. Learning how to care for the animals rather than learn to ride is the focus of the therapy. Cognitive behavioral therapy and experiential therapy are two approaches that are used in conjunction with working with horses. Caring for horses requires concentration, selflessness, and teamwork, all of which are required to learn self-esteem, self-awareness, confidence, and empathy.
Oasis Recovery is Here For You
Oasis Recovery offers a distinctive method for addressing co-occurring conditions. When treating addiction, the objective is to help clients live healthy, sober, and prosperous lives. When working hard to repair relationship damage in addiction treatment, clients frequently seek to heal relational wounds.
We encourage you to reach out to the professionals at Oasis Recovery to learn more about our personalized treatment programs and mental health services. Oasis Recovery was founded from firsthand experience of addiction and recovery, with a mission of providing a space where people can heal from addiction in a compassionate, creative, open-minded, and heart-centered environment. We believe recovery is always possible. Our experts work with you to design a treatment plan that fits your needs
Due to our highly coveted location in the Blue Ridge Mountains, Oasis is able to collaborate with a beautiful, local farm in western North Carolina to facilitate equine therapy.
Learn More About Equine Therapy in Asheville
If you or a loved one has recently searched "equine therapy near me" or would simply like to learn more about our programs and therapies, call Oasis Recovery today. Our addiction specialists are happy to answer any questions you may have. Do not wait any longer to take back your life. Call Oasis Recovery today and start living your life to the fullest.
Oasis Is Here For You
If you or a loved one could benefit from addiction treatment, the experts at Oasis Recovery are here for you. Between our various treatment programs, therapies, and supportive community, we provide the quality care that you deserve. To learn more about all we have to offer, download our free eBook today. You no longer have to struggle with addiction alone.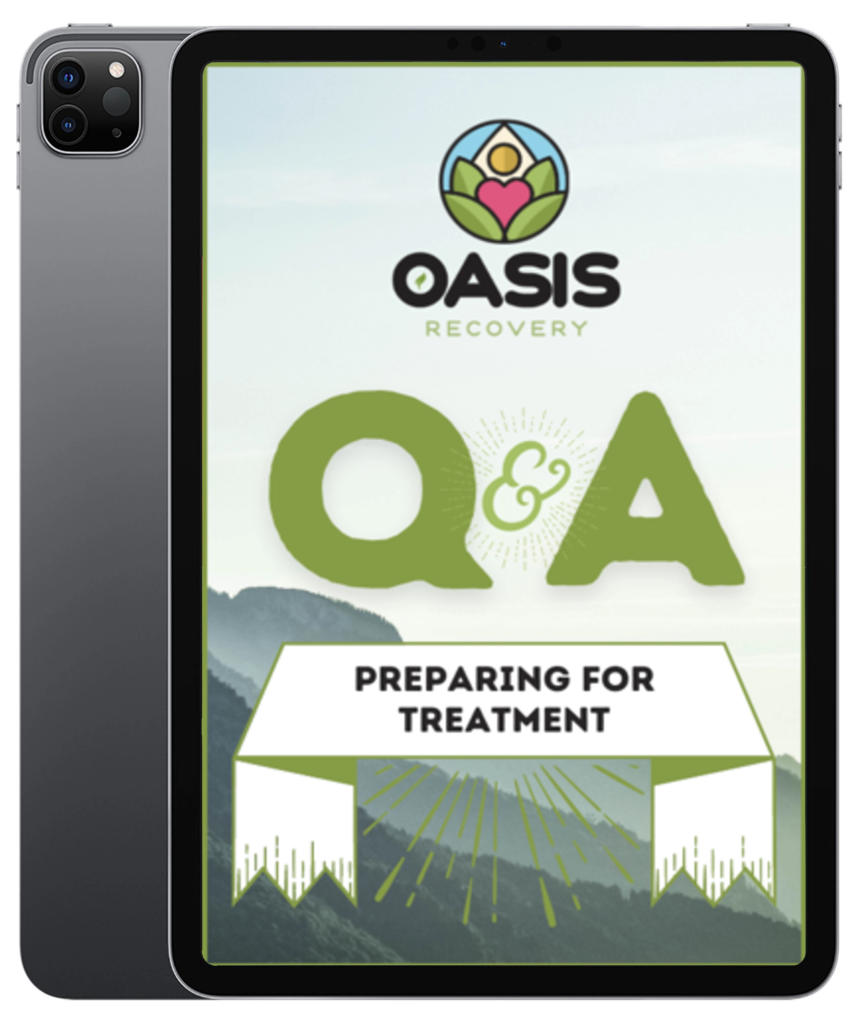 What Would It Feel Like To Be Free?
LET US HELP YOU FIND OUT