Drug Addiction in Asheville, NC : Everything You Need to Know
Drug addiction in Asheville, NC is a rising concern. As the nation deals with the ongoing opioid epidemic, communities across the country are dealing with spikes in illicit drugs, opioids, stimulants, and prescription drug use. According to county records, more than 10 million painkillers were prescribed in Buncombe County in 2018. Opioids are the most prevalent habit-forming drug in North Carolina. Is there someone you care about who needs help to free himself or herself from drug addiction? Continue reading to learn more about this growing problem and how Oasis Recovery Center can help.
Addiction in Asheville, NC
According to Asheville health care providers, opioid abuse is one of the most severe issues they face. The problem has existed for several years and has grown increasingly severe. According to data from Buncombe County emergency departments, there were 265 opioid overdoses in 2018, while 79 people died from unintentional opioid overdoses. The graph below depicts how the highest levels of fatal drug overdoses take place in the Western portion of the state.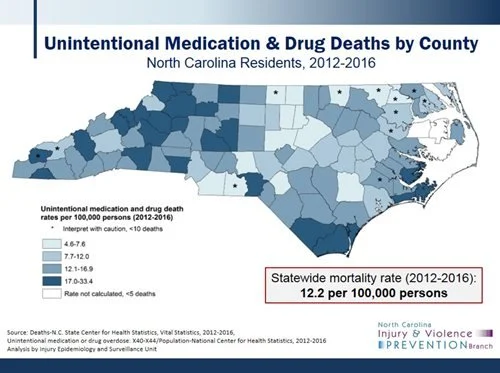 Why are Drugs So Readily Available in Asheville?
According to the Drug Threat Assessment conducted by the National Intelligence Center and Drug Enforcement Administration, North Carolina's vast stretches of rural terrain, particularly in the west, provide opportunities for criminal groups to conceal drug-related activities. Reporting from law enforcement officials indicates that methamphetamine production laboratories frequently are located in the mountains and woods of western and central North Carolina and cannabis cultivation is widespread in areas including the Pisgah and Nantahala National Forests in the western part of the state.
Drugs Commonly Abused in Asheville
The following five drugs account for the majority of arrests and abuse in the state, including Asheville:
Marijuana
Despite the fact that recreational marijuana use is still illegal in North Carolina, cannabidiol extract is provided to patients with epilepsy in a limited quantity. Marijuana is one of the most frequently used substances in the state, and almost 20,000 North Carolinians are arrested for marijuana use or possession every year. Outdoor marijuana cultivation is also very prevalent in the state.
Cocaine
In addition to the fact that it causes the most accidental poisoning deaths, cocaine use is also prevalent in the state. According to law enforcement authorities, between 75 and 80 percent of powdered cocaine available in the state is converted to crack before being distributed. Cocaine and crack cocaine are highly addictive substances that speed up the central nervous system, resulting in life-threatening withdrawal symptoms if someone wishes to quit using. Therefore, medical professionals should be present during detoxification to ensure the safety of those attempting to quit.
Heroin
Heroin is an illegal drug with no valid medical applications. As a result of its intense euphoria, people who abuse heroin must consume more of it and use it more frequently to keep experiencing the same high. Prescription medicines are more expensive and harder to come by than heroin, which is why many individuals turn to this cheap alternative opioid.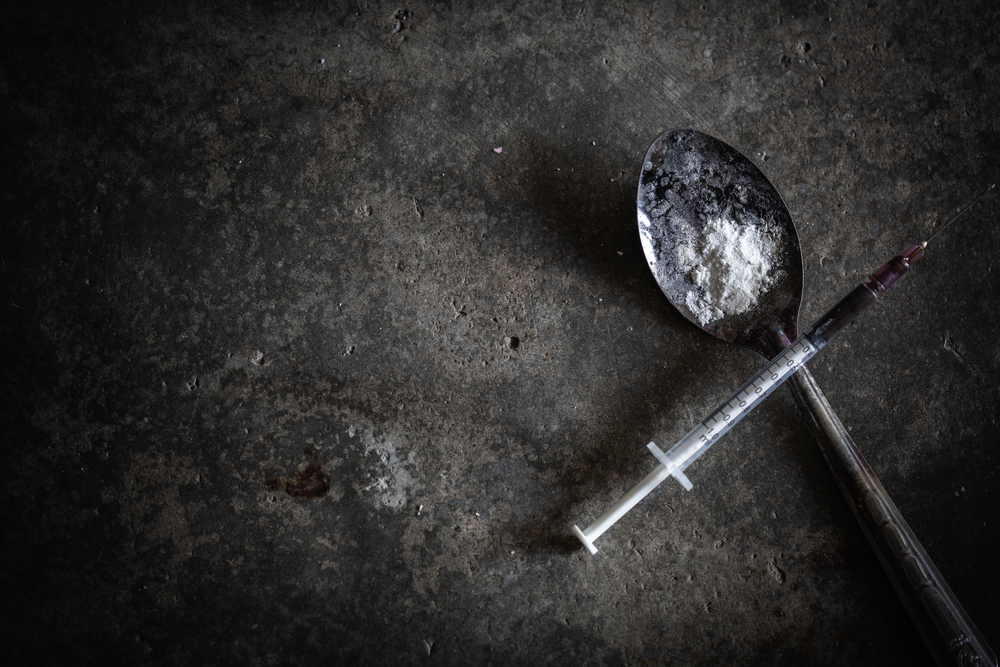 Methamphetamine
Methamphetamines were the most common substance prior to prescription painkillers. Meth labs are still being discovered across the state, and unfortunately, deaths from meth remain high. Methamphetamine has reportedly replaced crack cocaine as the principal drug threat in some western North Carolina counties because it is becoming more widely available and abused, is cheaper, and produces longer-lasting effects.
Prescription Medications
The availability of prescription drugs makes them easy to obtain, with or without a prescription, in Asheville and throughout North Carolina. Experts say drug abuse rates remain high. According to Buncombe County, over 10 million opioid medications were prescribed within the county in 2018 alone
What's Being Done to Combat the Addiction Crisis in Asheville?
The Buncombe County community is coming together to combat substance use disorder and the consequences of opioid overdose. They are collaborating with other public organizations, health care providers, religious organizations, non-profit organizations, the business sector, and community advocates to combat the epidemic of opioid addiction and fatalities. Efforts include:
Student Opioid Summit
The Student Opioid Summit, which is led and designed by students, focuses on substance use disorder prevention and awareness through schools, students, and parents.
Faith-Based Involvement
More than 60 faith community leaders came together in September 2017 to learn more about substance use disorder and pledge to take action. In April 2019, faith leaders once again came together to learn more about harm reduction and treatment options.
Drug Takeback
The Buncombe County Sheriff's Office, Asheville Fire Department, The Asheville Police Department, the NC State Bureau of Investigation, and pharmacies across the county collaborate to organize drug takeback events. Through these events, residents are able to safely dispose of their unused prescription medications.
Health Training in Schools
MAHEC School Nurses are still participating in the Student Summit and are equipped with Naloxone in schools.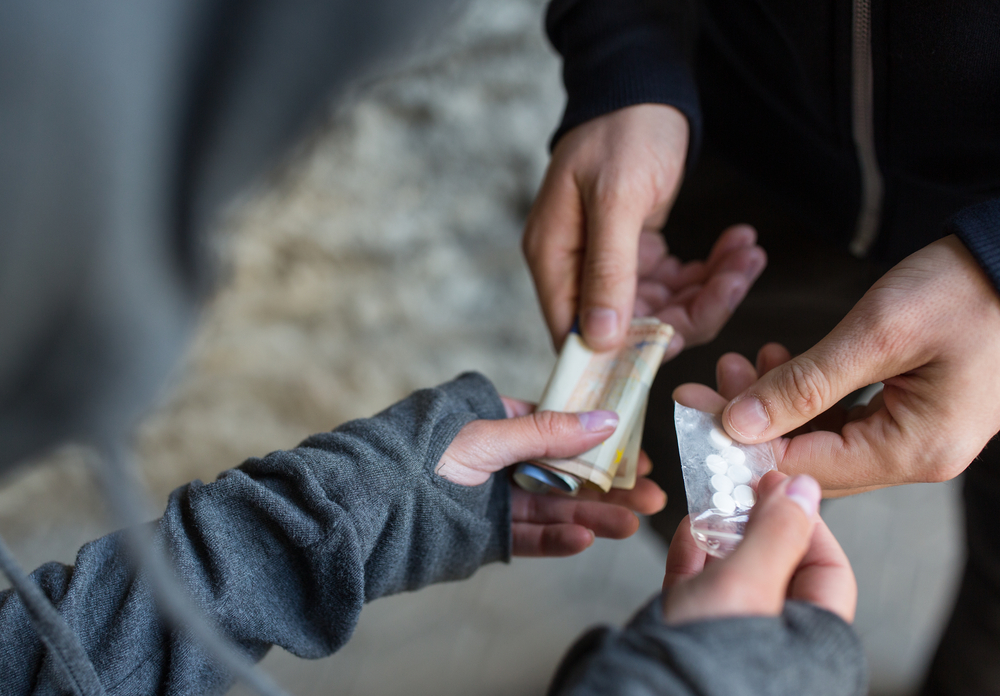 CARA
Through partnerships with Mission Hospital and MAHEC, BCHHS's Social Work team provides supports to pregnant and new mothers with substance use disorder in order to help them make a safety plan, know how to care for themselves and their newborns safely, and receive appropriate treatment for substance misuse.
Syringe Services
The syringe services program, located at 40 Coxe Avenue, provides sterile injecting equipment, Naloxone, hygiene items, peer support services, and referrals to primary and mental illness health care.
START
The START Team at Buncombe County Health and Human Services is a group of specially trained social workers and parent mentors who work together to improve family outcomes by getting parents into treatment, offering peer support, and working more cooperatively with both parents and their children.
How do I get help for addiction in Asheville?
Addiction is one of the toughest things for people to deal with, particularly asking for help. Asking for assistance can be so difficult that it seems better to continue spiraling downwards than to seek assistance. If you're in the same boat, here are some ways to seek assistance.
Admit you Have a Problem
The toughest part of overcoming an addiction is admitting you have one. Because substance abuse causes the brain to seek excuses and justifications to continue using, admitting you have an addiction is the first step. Having the bravery to acknowledge your addiction and its root causes is a sign that you're on the right track to recovery. If you don't feel comfortable confiding in your family or friends, you can seek assistance from a therapist, mental health professional, doctor, or rehab clinic.
Reflect
It's critical to consider what's important to you, how addiction has negatively affected you, and how your life will improve with sobriety. Keeping a daily journal is the best way to reflect effectively. You can use a journal to help yourself start an addiction treatment program to help you identify triggers, patterns, goals, and motivators.
Get Professional Support
Oasis Recovery's residential treatment program provides a calm, structured setting in which individuals may begin their drug and alcohol recovery journey. Our 24-hour staff is versed in a variety of treatment options in order to provide the most individualized, effective treatment for each resident.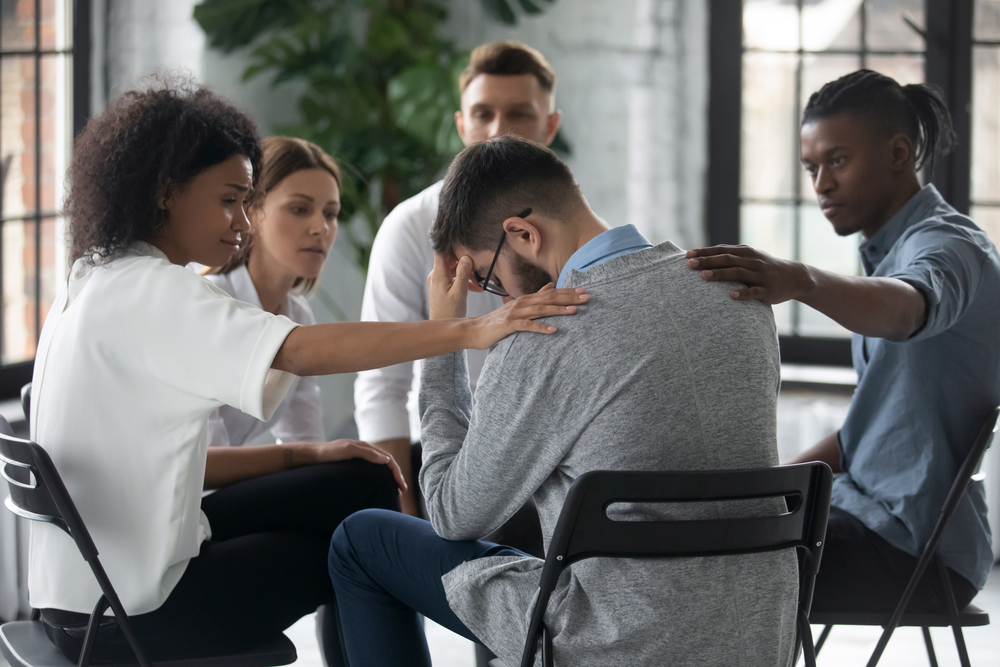 Oasis Recovery Center is Ready to Help
Addiction can happen to anyone at any time. If you or a loved one are dealing with addiction, Oasis Recovery's therapeutic addiction treatment services and customized rehabilitation programs can assist.
Oasis Recovery was founded on personal addiction and recovery experience and provides behavioral health treatment in addition to compassionate, accepting, and effective rehab for addiction. We believe that everyone can overcome their addiction. Our experts can help you establish a treatment plan that suits your unique wants and needs.
We can help you fight your addiction. Please contact an expert at Oasis recovery today for additional information. You do not have to fight addiction alone. We're here to assist you.